High Pressure Cleaning Perth
We specialise in High Pressure Cleaning in the Perth Metro area. Have your outdoor surfaces cleaned Swiftly. Improve the look of your property and remove slip hazards.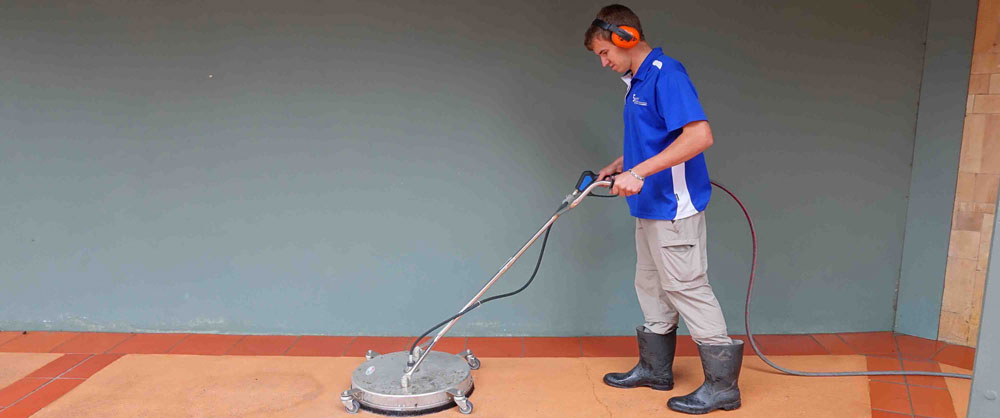 Why hire Swift Pressure Cleaning Perth?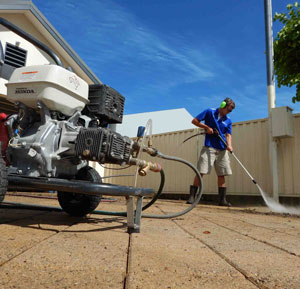 Many people own small electric pressure cleaners these days, why wouldn't you when you can pick one up from Bunnings for $50! They are great for cleaning your car and other small jobs around the house. Even we have a small electric pressure sprayer to clean flyscreen mesh with!
Try cleaning your whole drive though and you might be there for awhile! At the end of the day you might not be very happy with the end result!
Pressure Cleaning Video
Swift High Pressure Cleaning can make your property look great anywhere in the Perth Metro area!
Why choose us?
Just a few reasons why you should give us a go!
Exceptionally High Quality Results
Professional Staff - No Clowns!
Industrial Grade Equipment
Card Payments Accepted
Reliable & On Time
Affordable Pricing
Fully Insured

Our High Pressure Cleaning Equipment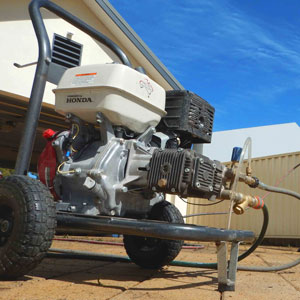 When we come to your property it wont be with a small electric pressure cleaner, that's for sure!
Swift Pressure Cleaning features a top of the range 4000psi at 15 litres per minute petrol pressure cleaner supplied by Pumps Australia. A 15hp Honda 4-stroke motor powers the Italian manufactured high pressure pump giving ample pressure for any residential and commercial task! We adjust the pressure to ensure that sensitive surfaces are not damaged.
Our pressure cleaner also features a detergent pick-up. Using this we can apply degreaser or other solutions to stains as we clean, this time saving feature not only reduces the cost, but also means you get the highest quality of cleaning possible!
We feature a 21inch rotary cleaning attachment (Pictured below). This allows us to make sure we get an even finish, and cuts down the cleaning time drastically.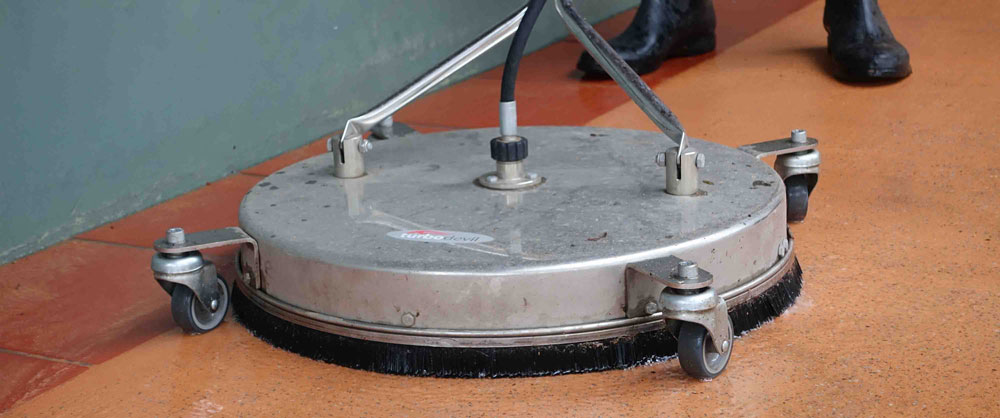 How Does High Pressure Cleaning Work?
High pressure cleaning has many different names, Power Cleaning, Water Blasting, Pressure Washing and Hydro Cleaning to name afew.
Regardless of what you call it, pressure cleaning is really quite simple. Water is supplied from the water mains to a water pump, the water pump is powered by a petrol or electric motor. Simply put the water pump accelerates the water pressure to very high speeds, the now accelerated water travels down a reinforced hydraulic hose to the cleaning attachment of choice and squirts out of the nozzles of the attachment at very high PSI.
Cleaning occurs when this high speed water contacts surfaces, it dislodges dirt, sand, mould, grime, staining or any other material that has worked it's way into the surface.
Detergents and cleaners can be added into the system to accelerate the cleaning of stubborn grease, oils and staining
What Can Be Cleaned?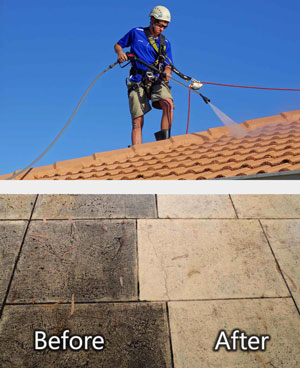 Driveways, Pathways, Paving
Bricks, Concrete, Limestone
Walls, Roofs & Other external surfaces
External Building Washing
External House Washing
External Mould Removal
Oil Stain Removal
Chewing Gum Removal
Any other external surface you can think of!
How Much Does High Pressure Cleaning Cost
There are different ways of pricing pressure spraying. We simply charge an hourly rate of $70p/h for all our pressure cleaning services. Alternatively we can also provide you with a in person quote since every job is different. Commercial premises always need to be visited to provide a accurate quote.
We have included a table that can be used to estimate pricing for the high pressure cleaning of paving, driveways and footpaths.
| Square Meters | Hours | Price |
| --- | --- | --- |
| 1 - 40sq/m | 1hr | $70 |
| 30-80sq/m | 1 - 2hrs | $70 - $140 |
| 80 - 150sq/m | 2 - 4hrs | $140 - $280 |
| 150 - 250sq/m | 4 - 6hrs | $280 - $420 |
Colorbond Patio Cleaning Perth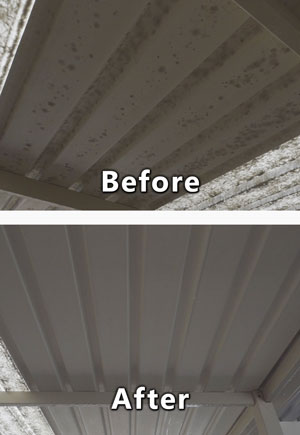 Patios in Perth often develop mould underneath. This mould not only looks terrible, but also isn't healthy.
Sometimes pressure cleaning alone will not remove this mould! Even our 4000psi pressure cleaner will not can not remove it! With the use of extendable brushes, detergent and alot of elbow grease we can make your colorbond patio look like new!
Leaving your patio mouldy can make it increasingly hard to clean in the future. Often once a patio has been professionally cleaned it will often last many years before needing attention once again.
Safety First
Full Public Liability Insurance
Construction Awareness Certified
Elevated Work Platform License
Safety signage and barricades
Working at Heights Certified
Rope Access Certified
We have all the necessary qualifications to clean anything from a walkway to the side of a building.
Working around a time schedule that suits our customers is very important to us. Our presence during normal office hours may be distracting and dangerous, therefore we are happy to complete the works at times that suit you.
All necessary safety signage and barricades are always used to ensure your customers and the general public are safe at all time