Wattle Grove Aldi Grand Opening Preclean
New Aldi stores are popping up everywhere around Western Australia. They seem to be causing a stir with supermarkets being more and more competitive.
Builders Window Clean at Wattle Grove Aldi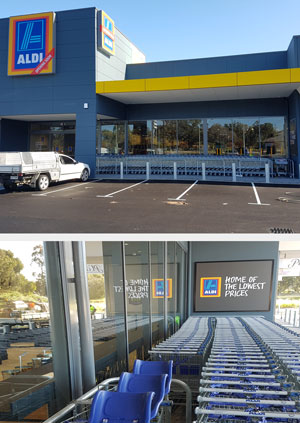 Recently the new Wattle Grove Aldi Store opened up and we won the contract for the window cleaning of the entire supermarket complex.
Since it was a newly finished building the windows had builders debris all over them. Being a builders clean every window needed to being checked carefully for left over marks, a lot of time is taken to ensure that all windows are spotless and look brand new like they should!
The new shop owners were pleased with the end result and all the cleaning was done in time for the grand opening.
Photo - A window cleaners nightmare, we had to move every trolley to gain access to the windows!