Gutter Cleaning in Perth
Why Hire Professionals?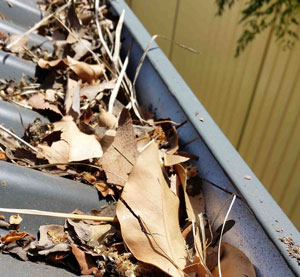 We offer Gutter Cleaning services in Perth. Many people don't have the time and equipment to clean their own gutters.
Also may injuries occur every year from people falling off ladders, we work on ladders every day and have all the experience and equipment necessary to clean your gutters.
Professional Gutter Cleaners do not simply come and blow out the leaves from your gutters. But rather they maintain your roof plumbing system, which can extend the life span of your guttering significantly.
While cleaning your gutters we will also check the condition of your roof and should inform you if there are any area's that need attention. Such things as rusted valleys, broken tiles and worn out rubber washers around tek screws can all cause water ingress into your ceiling cavity.
How Do We Clean Gutters?
Some gutter cleaning companies like to use garden blowers to simply blow the leaves and debris down to the ground, and then clean up later. We prefer to minimise any mess asmuch as possible. We remove and collect all debris from your gutters using purpose made gutter cleaning tools.
After all the bigger material has been removed we then wash out the remaining small debris with water. This ensures all the sand and mud is removed, if left in place this is what eventually causes rust to occur. Also by washing gutters out we make sure that your downpipes are working efficiently. Any blocked downpipes are easy to notice and can be cleared
It is very important that downpipes are water tested, as regardless of how clean the gutters are, if the downpipes are clogged the roof plumbing system will not work properly. This can cause gutters to overflow into your ceiling, which is the last thing you want.
Gutter Cleaning Prices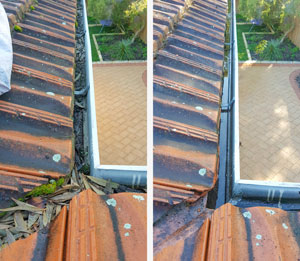 Below is a guide of what you can expect to pay to have your gutters professionally cleaned. These prices are based on how long it takes us to clean your gutters, houses with complex roof designs may take longer. Our standard rate is $60p/h.
If there is minimal debris and leaves we can often complete gutter cleaning on a single storey home in an hour, with a total cost of $60. However if your gutters are packed full of leaves and debris it can take over 2 hours for a straight forward roof design.
| Type | Hours | Price |
| --- | --- | --- |
| Single Storey | 1hrs - 2.5hrs | $60 - $150 |
| Double Storey | 1.5hrs - 3.5hrs | $90 - $210 |
Our aim is to maintain your roof plumbing system. When unmaintained, the life cycle of gutters can be greatly affected.
To book your gutter clean please Contact Us
Buildings We Service
Single, Double and Triple Storey Houses
Real Estate Managed Houses
Commercial Buildings
Residential Complexes
Schools
Strata's
Safe Working Practices
We have a temporary roof anchor and harness system to keep us safe while we are servicing your gutters. Don't risk your safety and leave your gutter cleaning to the Perth cleaning professionals.
Please view our video