Did You Know We Clean Patios Too?
Since we offer pressure cleaning services in Perth, we have been asked many times to also pressure clean patios.
Unfortunately since most patios are sheltered and do not have very good ventilation, they often develop mould on the underneath of the colorbond roof sheets.

Can I Do It Myself?
Sure, but it is hard work! In order to clean you will need: A step ladder, bucket, detergent, soft bristled bush/broom and a garden hose.
How? Fill your bucket with water and mix in detergent like you were about to clean dishes.
Wet down your the area that you going to clean with the garden hose.
Dip your brush/broom in the bucket of soapy water and scrub the roof sheet until you see all the mould has been removed.
Once you have lifted the mould, rinse the area with your garden hose. Repeat if all the mould hasn't been removed.
We Have The Right Tools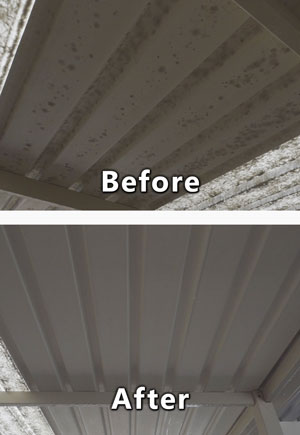 Cleaning your patio yourself can be very hard work. If you would like it to be done professionally we have all the right tools!
We feature a 4000psi pressure cleaner and have various extendable brushes and detergents, this means we can quickly and efficently clean your colorbond patio.
Pressure cleaning alone will not remove the mould from the underneath of patios! Even our 4000psi pressure cleaner will not can not budge it! That's where our extendable brushes come in, combined with some elbow grease and your colorbond patio look will like new!
If you would like more information or would like to book your patio clean please Contact Us